What exactly does "CBD oil (cannabidiol)" mean, and what are its effects? You are probably reading this article because someone advised you to try CBD oil for inflammation, pain, insomnia, anxiety, or another medical condition.
Or perhaps, you may be interested in trying it for general well-being, as a daily supplement.
Starting from here you made the right choice! Gathering information before diving into the world of CBD, where misinformation and dubious claims about products are not lacking, is definitely the best option. (see our article on CBD myths and fake news)
Products containing CBD can give you relief and help you regain well-being, but there is one essential aspect: not all oils are created equal.
With this guide, you will learn to recognize the types of CBD oil and their differences.
What exactly is CBD oil?
CBD, or cannabidiol, is one of the many substances (also called cannabinoids) found in cannabis. Cannabidiol (CBD) oil simply refers to an extract of cannabis light or industrial hemp that is formulated to contain high levels of CBD and may also contain varying levels of other plant-based substances such as terpenes.
Products that contain only CBD are not intoxicating or psychotropic, unlike THC-rich products that cause the high commonly associated with cannabis.
This makes CBD an ideal remedy for consumers seeking relief from their symptoms without affecting their cognitive and mental ability.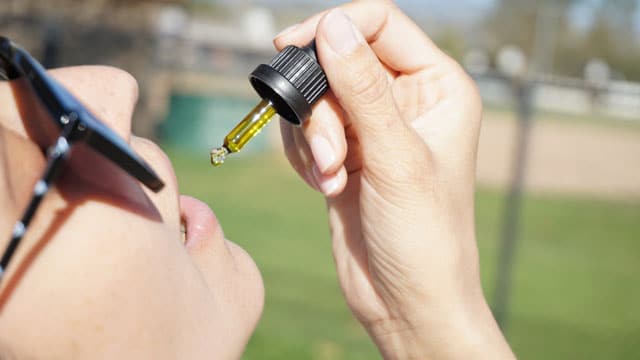 The types of Oil
"CBD oil" is a very generic term. Looking to buy CBD oil, chances are you'll find many different forms. These are some of the most common types of oil:
CBD tinctures: these are liquid extracts that are applied under the tongue, where CBD is absorbed and enters the bloodstream. They typically come in a glass bottle with a dropper.
CBD capsules: they are filled with oil and used as a dietary supplement.
Rick Simpson CBD Oil (RSO CBD) refers to an alcohol-based extract that can be ingested or applied to the skin.
CBD vaporizable oil is found in pre-filled oil cartridges that attach to e-cigarette batteries.
Solid CBD oil (DAB) is hash oil extracted with butane or carbon dioxide, rich in CBD, used for "flash" vaporization, an elaborate way of vaporization known as "dabbing" . If you are a beginner, we do not recommend that you start with this, but we mention it so that you understand what it is.
What are the effects and benefits of CBD oil?
Will CBD get you high? The short answer is no, it won't. But the truth is that this may depend on where you are buying your oil.
By itself, CBD is a non-psychotropic compound. All CBD products sold online or at retailers and pharmacies must contain less than 0.3% THC; in this percentage, THC will not give you euphoric effects or detectable alterations.
However, if you buy at a local cannabis store, it's important to know that the amount of CBD and THC contained in a craft product is not always properly controlled.
Products that contain both CBD and sometimes high levels of THC are increasingly common at local retailers who unfortunately rely on artisanal manufacturers and do not control production with laboratory tests. In general, products with less than 0.3% THC are legal, free to sell, and won't give you a high.
Positive effects of CBD
CBD oil can have a number of effects on your body including physical relaxation, stress relief, or a slight state of alertness and concentration. Although medical research has yet to explore the full range of therapeutic effects of CBD, most consumers use CBD oil to manage symptoms related to conditions such as:
Epilepsy
Seizures
Muscle pain
Chronic inflammation
Anxiety
Stress
Insomnia
So far, medical research has determined that the safety profile of CBD appears to be very high. However, it is important that as a consumer, you pay attention to potential drug interactions or products with questionable ingredients. For this reason, if you suffer from a medical condition, you should talk to your doctor before you start using CBD oil.

Finding the best oil for you
Since CBD oil is not yet fully regulated, it is up to you to distinguish between high-quality concentrates and "motor oil". As a general rule, we recommend that you buy oils from organic cultivation, tested in the laboratory, extracted from light cannabis grown in Italy.
First, there are three distinct types of oil you should know about:
Full spectrum CBD oil contains the full range of substances produced by its plant of origin (CBD, THC and other cannabinoids and terpenes).
Broad-spectrum CBD oil contains a wide range of substances from the plant of origin, but THC is removed completely.
CBD isolate contains only CBD: all other compounds are removed.
The variety of therapeutic compounds found in full-spectrum CBD oils makes them popular with consumers who wish to reap the benefits of all the natural substances found in Cannabis Light. Even if present, THC in a percentage of less than 0.3%, will not result in a "high" but will provide benefits in synergy with the other cannabinoids and terpenes. (read more: "entourage" effect of Cannabis Light)
Origin of the Oil
CBD oil can be obtained from industrial hemp or cannabis light, as both produce CBD in their resinous glands. However, there are some noteworthy differences and features:
Products derived from industrial hemp are much cheaper and available for purchase online. Oil derived from cannabis light is usually only available in specialized online stores or directly from the manufacturer.
Hemp has fewer resin glands than cannabis light, so more plant material is needed to extract the oil from industrial hemp. And because hemp easily absorbs soil contaminants, in a process called bioaccumulation, its extracts are more likely to concentrate heavy metals and other types of contaminants and toxins.
Industrial hemp is also more limited in its bio-chemical diversity and could potentially result in a therapeutically less effective product.
Buy Full Spectrum CBD Oil Online
Our full spectrum CBD oil comes only from our selected Cannabis Light plants, grown organically and in fully controlled premises. This allows us to offer you a superior product to an oil from industrial hemp, free of mold, parasites and heavy metals.
On our online store you can buy full spectrum cannabidiol oil in 3 different concentrations. For any information, do not hesitate to contact us through our email address: info@canapalightblue.com or via WhatsApp.