As we know, nature is wonderful and always provides us with many useful resources for our body and mind.
The constant research on cannabinoids are revealing ALL the beneficial effects of this element. Not only beneficial for the mind, but for the body as well.
In fact our body has an "Endocannabinoid" system that perfectly responds to the stimulus of CBD!
As we all know, many different products based on Hemp are being released on the market, including cosmetics.
Then why not create them at home, in a time-and-cost-effective way?
But before moving on to the good tricks, let's discover more about the amazing effects of cannabinoids on our skin…
How do cannabinoids work on our skin?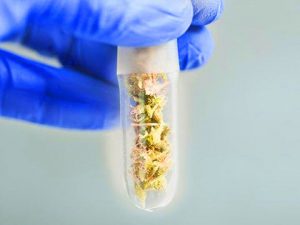 The endocannabinoid system is nothing but a wide net of receptors.
The receptors directly act on memory, pain and any other physiological areas. Their purpose is to maintain the homeostatic balance of the body.
We have receptors on our skin too , in fact Cannabinoids are also gaining ground in Dermatology.
The products aimed for the face have different effects: antioxidant (in case of acne), anti-aging or illuminating.
Cannabinoids strengthen the skin defensive barriers and help against dried skin.
Trichomes are the actual vectors of all the benefits mentioned above: they're tiny crystals that wrap the flower, carrying a large quantity of terpenes and cannabinoids.
For the skin, the most prominent property is the anti-inflammatory quality.
Most of skin problems derive from inflammatory conditions. Cannabinoids can then efficiently prevent this skin response. An example? Acne, for many people an undesired condition of the skin, which consists of an excessive production of sebum.
Cannabinoids can reduce the production of sebum, thanks to their antiproliferative mechanism.
But it's also proven to be very effective against psoriasis, a debilitating disease. Cannabinoids can obstruct the psoriatic plaques, greatly improving the patients' condition that can otherwise lead also to psychological issues, if not treated.
CBD can be anti-aging, since it's an antioxidant.
The direct application to the skin is the most effective kind, but it can be ingested in drops or in the form of food supplement.
Therefore hemp oil is not only useful to cook, but also for our beauty!
Are you ready for some tricks to become more radiant and beautiful?
Make notes of the following recipes for face masks with a WOW effect!!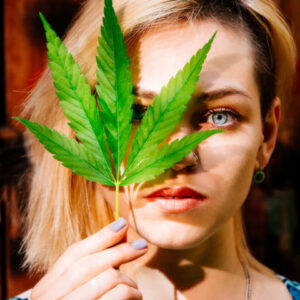 Purifying and illuminating mask
Ingredients:
1 Avocado
2 Tsp of Spirulina
Drops of essential oils (lavender, cotton flowers…) q.s.
… and obviously hemp oil!
Instructions:
Remove the stone of the Avocado, cut the fruit into pieces and put it in the blender with the other ingredients.
Blend until you get a soft cream, not too fluid. smooth and without lumps.
How to apply:
In order to allow the maximum absorbency of the mask, it'd be ideal to bring 4 to 6 cups of water to a boil in a kettle or pot, drape a towel over your head and the pot, and hold your face about 6 inches above the water. Raise or lower your head for more or less heat and lift a corner of the towel to cool off if needed. Steam your face for 5 to 10 minutes to open the pores of your face before applying the mask.
After carefully wiping the face, apply the mask using a brush. Leave for 30 minutes and rinse with cool water!
Anti-aging mask
Ingredients:
hemp oil: 10 ml
Pure Rosehip Oil 10 ml
Wheat germ oil 10 ml
Instructions:
Mix them all in a bowl!
How to apply:
After carefully wiping the face, apply the mask using a brush. Leave for 15 minutes and rinse with cool water!
---
I bet you can't wait to try these fantastic masks!
You can find the Hemp Oil in the link below:
https://www.canapalightblue.com/prodotto/olio-cbd-5/ – CBD OIL
https://www.canapalightblue.com/prodotto/olio-di-semi-di-canapa/ – HEMP SEED OIL
Thanks for reading and stay tuned to keep following our Blog news!
Canapa Light Blue Team.